Do you need help getting your home ready for guests?
Summertime is in full swing and there are still a lot of vacations taking place before the children go back to school. Often times the vacations are not our own, but guests coming to visit us.
This was true for one of my clients, whose cousin came out to visit from South Carolina, with her nephew. And, in preparation for their visit, my client had me make sure the pool was safe, adjusting gate latches and repairing fencing. Her home has lake views, a covered patio and the feel of a vacation destination. Not to mention the wonderful attractions of the Bay Area.
Our neighbor, whose door is always open to visitors, is also ready for family visits with an innovative solution. He converted a bedroom to a combination craft and guest room. He built a fold out Murphy Bed and added counter space for all his wife's crafts. Now she has the sacred space to do her handiwork and play her harp; as well as the multi-use room to welcome stay-over guests.
Let's face it, quite often visiting guests are the reason and motivation for us to get our much needed home improvements and repairs done. Just like I helped my client with pool safety, I have helped many clients reorganize their homes to welcome visitors. From the addition of bedroom ceiling fans, to added shelving in closets, or rearrangement of furniture; there is a fix-it for everything.
Don't have time, or the inclination, to do it yourself? Hand that list over to us! Why not take advantage of this month's retainer special … Prepare Your Home for Summertime Guests? Wouldn't you rather be out there vacationing yourself?
One bite at a time!
Most of our client visits start with a list. A list of projects the client finds most annoying and wants to get fixed.
Things like: the dripping bathroom faucet, the toilet that flushes on its' own, the bedroom closet doors that fall off their tracks, garages packed full with no more room for cars, unbalanced washing machines that dance across the floor, and the bulb that burned out in the fixture 20 feet up.
Small annoyances, yes, we all have them. And, because they are small, or we have no time to deal with them, we tolerate them. As we do, the list grows.
You know … like the tiny hole in the screen that bothers you a lot at first. Then, day by day, you hardly notice it at all. Suddenly your house is inundated with spiders, flies, gnats and mosquitoes.
And you wonder … Where, oh where are they coming from?
Recently, I worked on a clients long list of annoyances. I organized her shed, changed the toilet seat, installed a grab bar, replaced the shower head, took recycling to the dump, changed water and A/C filters, and worked right through the whole list of her projects.
You too, most likely, have your own list of little annoyances, ones that suddenly seem big and overwhelming once you put them altogether. It can feel like an avalanche coming right at you.
How do you "eat an avalanche?" One small (bite) project at a time.
Or, maybe hand that list over to us! Why not take advantage of this month's retainer special … "Small, tiny fixes and projects!"? Wouldn't you rather be swimming?
Are you ready for tiny house living?
The tiny house movement has finally come knocking at our door! As a handyman and electrician, I usually work on regular sized homes, condos, and offices. However, this time a call was from someone who had just recently moved into their first tiny home.
Fascinatingly enough, her tiny home is located in one of the very first tiny house developments in Oakland. Oakland is leading the way in this movement, more progressive than most other cities, who do not allow tiny houses within their city limits. I believe this is unfortunate since many people these days wish to downsize for a variety of reasons.
From the mindset of an electrician and handyman; that got me thinking . . .
How many square feet is enough? The one that intrigued me the most was the "Pan American" Airstream trailer which is 272 square feet. Seems ideal for one person or maybe two and a dog!
What kind of electrical would you need to support a tiny house lifestyle? Would you need it for a stove or hot plate, refrigerator, microwave and / or washer/dryer? What about computer usage and charging your smartphone? What would be required — solar with battery backup and live off the electrical grid entirely? Or, would you find a way to power your tiny home with pre-existing hookups available?
Maybe a very long extension cord! (Just kidding!)
How about plumbing and water? Would you need a minimal amount of plumbing for running water and a toilet?  Or is a composting toilet more to your liking?
And, what about all your stuff? How much storage space would you need? Or, do you wish to purge, downsize, and live minimally?
There are a lot of important lifestyle questions for Americans to ask of themselves when they decide to go the tiny house route. For the woman who called me, she is still answering many of these questions, even while living in her tiny house.
As to whether I would wish to live in a tiny house myself, the aspect that does spark my dreams is to have it located right in nature; just walk out the front door and there it greets you. The other draw, for me, would be to have less upkeep and maintenance — the freedom that would give.
I do know one thing….I would need more than 272 square feet with the lifestyle I like to live.
It's Garden Check-Up Time!
Wow, that was one winter… or spring… or maybe winter… that couldn't make up its mind!Things should level out and dry up this month, so it's time to start dealing with
the aftermath. Here are some major areas to think about as you come out of hibernation and assess where your yard needs to go from here:
The Grass Is As High As An Elephant's Eye
We've barely had a dry week for months, which means that it's nearly impossible to cut the grass or weeds down to a manageable level. Wild weed grasses are designed to grow fast and put out seeds in a hurry during our short wet season. Blink, and suddenly your dog is lost in a backyard corn maze. Not only do these weeds generate nasty seeds that can injure your pets, they can smother your smaller landscaping plants trying to emerge at this time of year, harbor plant diseases, and hide other noxious weeds like burr clover. Get rid of them as soon as you can for everybody's comfort.
There's a Fungus Among Us
Two fungal diseases that are especially fatal for plants are powdery mildew and black spot. Even if you don't have three-foot-tall weeds hanging out between your rose bushes, these diseases are easily spread through spores that travel through the air or by water that's splashed up from the ground. If you see black spot on your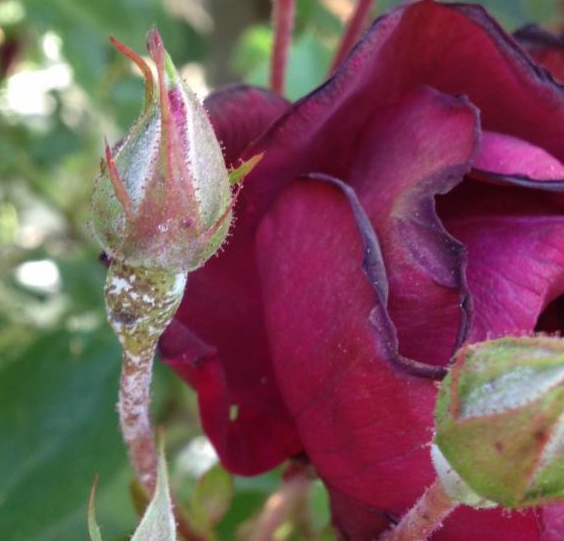 roses (which is easy to identify, since it's literally black spots all over the leaves), treat them immediately with a fungicide spray. Make sure it will be dry for a couple of days before spraying so the fungicide isn't washed off the leaves.
Powdery mildew is a very common problem and shows up as a white powder all over the leaves of your plants. Some plants are more affected than others, such as roses, zucchini, beans, lilacs, zinnias, and snapdragons. One of the factors that contributes to this problem is poor air circulation, so be sure your plants aren't over-crowded. Also watch out for rust, another fungal disease that's common on hollyhocks and, yes, roses again. Spray with a fungicide like you would for black spot.
Can You Dig It?
Our local clay soil should never be tilled or worked when wet. Clay is made of very fine particles which stick together in clumps and won't allow air in, which means that plant roots will suffocate and rot. Wait until the dirt is just barely moist and crumbly enough to let compost be worked into it without sticking together in blobs like you're about to make some pottery. If it doubt, wait and ask an expert for advice before firing up the rototiller.
The Calm After the Storm
There could be winter storm damage around your house that you're not even aware of. Take a walk around and look for broken tree branches, failed or clogged gutters dripping where they shouldn't be, or even soil ruts caused by storm water runoff, such as by downspouts or dirt hillsides that didn't have adequate erosion control.
Fortunately, the Fix-It Professionals can help get your yard under control for summer enjoyment! Not only do we unclog gutters and till garden soil, we can de-jungle your garden so you can find your dog again! Whether you need your weeds whacked or some just storm-damaged branches hauled away, be sure to hire us on retainer for the very best price.