It's Garden Check-Up Time!
Wow, that was one winter… or spring… or maybe winter… that couldn't make up its mind!Things should level out and dry up this month, so it's time to start dealing with
the aftermath. Here are some major areas to think about as you come out of hibernation and assess where your yard needs to go from here:
The Grass Is As High As An Elephant's Eye
We've barely had a dry week for months, which means that it's nearly impossible to cut the grass or weeds down to a manageable level. Wild weed grasses are designed to grow fast and put out seeds in a hurry during our short wet season. Blink, and suddenly your dog is lost in a backyard corn maze. Not only do these weeds generate nasty seeds that can injure your pets, they can smother your smaller landscaping plants trying to emerge at this time of year, harbor plant diseases, and hide other noxious weeds like burr clover. Get rid of them as soon as you can for everybody's comfort.
There's a Fungus Among Us
Two fungal diseases that are especially fatal for plants are powdery mildew and black spot. Even if you don't have three-foot-tall weeds hanging out between your rose bushes, these diseases are easily spread through spores that travel through the air or by water that's splashed up from the ground. If you see black spot on your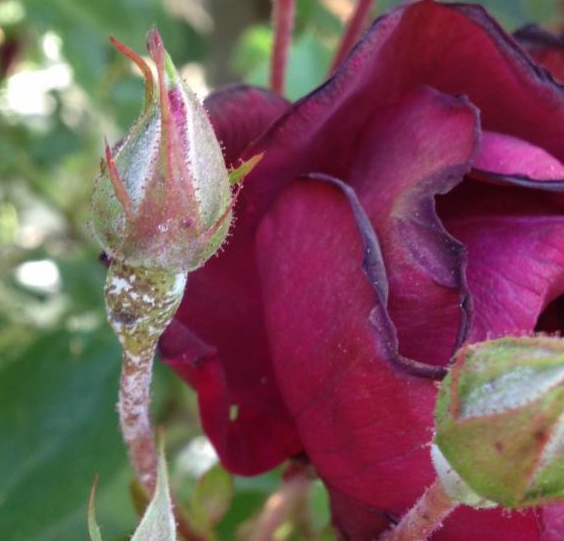 roses (which is easy to identify, since it's literally black spots all over the leaves), treat them immediately with a fungicide spray. Make sure it will be dry for a couple of days before spraying so the fungicide isn't washed off the leaves.
Powdery mildew is a very common problem and shows up as a white powder all over the leaves of your plants. Some plants are more affected than others, such as roses, zucchini, beans, lilacs, zinnias, and snapdragons. One of the factors that contributes to this problem is poor air circulation, so be sure your plants aren't over-crowded. Also watch out for rust, another fungal disease that's common on hollyhocks and, yes, roses again. Spray with a fungicide like you would for black spot.
Can You Dig It?
Our local clay soil should never be tilled or worked when wet. Clay is made of very fine particles which stick together in clumps and won't allow air in, which means that plant roots will suffocate and rot. Wait until the dirt is just barely moist and crumbly enough to let compost be worked into it without sticking together in blobs like you're about to make some pottery. If it doubt, wait and ask an expert for advice before firing up the rototiller.
The Calm After the Storm
There could be winter storm damage around your house that you're not even aware of. Take a walk around and look for broken tree branches, failed or clogged gutters dripping where they shouldn't be, or even soil ruts caused by storm water runoff, such as by downspouts or dirt hillsides that didn't have adequate erosion control.
Fortunately, the Fix-It Professionals can help get your yard under control for summer enjoyment! Not only do we unclog gutters and till garden soil, we can de-jungle your garden so you can find your dog again! Whether you need your weeds whacked or some just storm-damaged branches hauled away, be sure to hire us on retainer for the very best price.
Smart Renovation Investments That Won't Break the Bank
Whether you're looking to sell your home, or stay there for a while, chances are something needs updating and improvement. There's always something to be done! Selling is the best time to invest in those renovation upgrades, because a few dollars here and there can really pay off in a higher sales price. Here are a few ideas for adding value to your house for much less than an expensive bathroom remodel (which won't pay for itself anyway):
Curb Appeal
People do judge a house by the cover! Other than an updated kitchen, curb appeal is the most important upgrade you can make to your house when selling. A terrific front yard, beautiful new front door, and fresh paint and trim all make your house look like a rock star in the real estate listings and in person. This might be the time to pull out an ugly, struggling lawn and replace it with water-friendly landscaping instead.Make sure the walkway between your beautiful new front door and the sidewalk (if you have one) is in good repair too, and doesn't look dated and cracked.
Hit the Deck
In the back yard, landscaping is less important, but having updated and clean entertaining space matters. If you have a deck, make sure it's in good repair, and give it a fresh coat of paint or sealer. If you don't have a deck, now might be the time to get one built. You can also add a barbecue area or sun shades to make the back yard even more appealing and updated. One thing you don't want to add is a pool or spa. They are expensive to maintain and use a lot of water, and can actually deter buyers who don't want the hassle.
That Really Blows
If your HVAC (Heating, Ventilation, and Air Conditioning) system works fine, it's easy to forget about it. But if it's old or has been struggling for a while, it's a smart investment to update the system and then use it as a selling point. Make sure the unit is the proper size for the square footage of the house and not too small, which is a common problem. Make sure the baffles and ducts are in good repair and not stuck or clogged, such as with a surprise animal nest.
Getting Underfoot
New carpet or wood flooring isn't cheap, but it is an important investment when getting a house ready to show to potential buyers, especially if you have animals. For carpet, pick something pleasantly neutral but not too light in color if people will be doing a lot of walk-throughs. High-low pile carpet with blobs of different stain-hiding browns was popular in the 1980s… and wow, does it look dated today. 2016's living room carpets have subtle leaf or scroll patterns and look downright elegant. In wood flooring there are a lot of fun choices, with sustainable bamboo being a top pick, especially for younger buyers.
Off the Wall
Just like that terrible old carpet, few things make a house look more dated than terrible old wall treatments. 1970s glossy wood paneling or 1980s loud wallpaper make the rest of the house look tired and uncared for. "Cottage cheese" acoustic ceilings are out, too. Old wall coverings (and old paint) can show a lot of wear next to doors and light switches, too. New paint or wall treatments are one of the best (and cheapest) ways to make the inside of your house feel fresh, clean, and updated.
Of course, The Fix-It Professionals can help you with most of your renovation tasks, from flooring to cottage cheese ceiling, inside and out. Selling your house and moving can feel overwhelming, and we want to help! Call us today to schedule an assessment walk-through, and you can hire us on retainer to get the very best price for when the renovation work begins.
Kitchens v. Baths, Which Is The Better Upgrade Investment?
It's the battle of the century! Which powerful force will win? Which one is the crowd favorite? No, it's not the new Batman v. Superman movie, it's kitchens v. baths when it comes to your remodeling investment dollars! These are the two rooms that get the most attention when people are looking for ways to make their house more valuable, usually in preparation to sell.
Before you start anything, talk to a real estate agent in your area. They have the most up-to-date knowledge of what buyers are currently looking for where you live, right down to the exact brand of kitchen appliances.
Another general rule is: Don't be too extreme.Keep colors neutral, or even just white, which makes it easier for buyers to personalize things once they move in. With that in mind, don't get too crazy with expensive specialty sinks, cabinet hardware, and appliances. You may love that 7-nozzle all-over shower booth or hidden wine cellar below the floor, but that kind of stuff not only drives up the price of the house, you may never find a buyer who feels the same way about them that you do.
Now let's take a look at some good upgrades for the kitchen and bath that give you a good return on your investment:
What's Hot in the Kitchen?
Granite counter tops (or composite lookalikes) are still tops, and people expect them when shopping for a new house, but any nice-looking grade has the same value so you can stick with inexpensive here. Tile with grout is very hard to keep clean and cracks easily, so that's a bad choice. Laminate counters went out with rotary dial telephones and are not considered any kind of upgrade at all, no matter how new.
This is a good time to add nice little features like under-cabinet lighting, a pull-out spice drawer, a small wine rack, device charging stations, dimmer switches, or even a dining island if you have the space. It's the clever little touches that impress younger buyers and can make a sale without much cost at all.
Don't Take a Bath On Your Investment
A big fancy bathtub looks great in photos, but young couples don't have time to take a bath! It's sad, but true. If given a choice, most buyers will opt for a nicer shower and a nicer sink. Cabinet space is another important feature that some bathroom remodels seem to forget about. Sure, that pedestal bowl sink with the big round mirror look great, but where are you supposed to keep your toothbrush and deodorant?
Like counters in the kitchen, a new floor in the bath can make it look really great and modern… if you use great and modern flooring. Cheap vinyl flooring looks, well, cheap. And it doesn't last very long. Tile remains a good investment because of its durability and water resistance, and there are so many fun and beautiful choices in colors, shapes, sizes, and materials!
But Which One Has the Best ROI?
Ah, but which one is the best in our battle between kitchens and baths? And the winner, for best return on investment is… kitchens! But only if you don't go crazy with expensive features. A simple facelift is the way to go. New cabinet fronts and knobs/pulls, an inexpensive granite counter, some additional electrical and USB outlets, some  modestly-priced appliances, new flooring, and a fresh coat of paint (don't forget the ceiling!) will more than pay for itself when it's time to show the house to potential buyers.
Of course, The Fix-It Professionals can give your kitchen, bath, or any room in the house the facelift it needs! From floor to ceiling, we can install light fixtures and appliances, get that new flooring put in, and add the nice little touches that are so popular right now, like device charging stations. Not to mention, clear out the stuff to get it all going.
Spring and summer are the prime house-buying seasons, so give us a call today to get your place in ship shape, and ask about hiring us on retainer for the very best price.
Re-Purposing Your Spaces
If you've been in your house for many years, it may not be working for how you live today. Downsizing is the answer for some people once the kids have left home, but it's not for everybody.
You don't need a major remodel to make yourself more at home in your home. Simply using spaces differently (with some new cabinets or shelves) can be just what you need to enjoy them a lot more.
For Fun
Have you always wanted a big model train layout, or a sewing and craft room all to yourself? Now is the time! If you just have one spare room, use lots of efficient storage which gives you the space to put in a day bed or futon so it doubles as a guest room. Also take a look at the light–maybe this could be the perfect houseplant nursery too.
Another thought about having space for fun is to move stuff out of the living room and into a back bedroom to give yourself an area for entertaining. "Home theaters" have gotten a lot more affordable–all you need are a big screen television, surround sound speakers, enough comfy seating for you and your friends, and a table for snacks and beverages. Doesn't this sound great for a movie night or big ball game?
For Business
So many people have a home business these days. Joan and me, for example! Our paperless world of the future never happened, so if you have a business, you probably need an office. A spare bedroom is perfect for this purpose. You can even turn an extra walk-in closet into a micro-office with just a desk for your computer (no mothballs needed).
For Accessibility
As life goes on, some of us may need to use walking aids, scooters, or wheelchairs. Re-purposing, to you, could mean grouping your essential stuff close together to make it easier to get to. Or it could mean installing special low counter tops, widening areas for a wheelchair to fit, installing grab bars and ramps, or changing out the old bathtub to a shower that's easier to get in and out of.
The Yard
These days with so much concern about drought, a lot of people are getting rid of their lawns. Maybe you've had a lawn for years for the kids or grandkids to play on, or for your dog. If the lawn doesn't really get used any more, now is the time to re-purpose the yard too by putting in drought-friendly landscaping, paths, and seating areas. You could even add a gazebo in the middle to entertain friends (plus, it's a fun playhouse for the kids).
It's time for spring cleaning, and spring rearranging.The Fix-It Professionals can help you with nearly everything in this article! We can assemble shelves and storage, move furniture, install outlets where you need them, put in your flat-screen television and speaker system, work on your landscaping, and help make your home more wheelchair friendly.Give us a call today to get started, and be sure to ask about hiring us on retainer for our very best rate.